Gymnastics
From babies exploring their environment, to toddlers pushing limits and releasing energy, to school age children needing a place to call their own, we provide instruction to help children grow and become confident individuals. The sport of gymnastics will allow each student to become well rounded participants in every aspect of their lives.
Parkour
Parkour has become an increasingly popular sport. It provides each student the ability to release their inner selves. Our classes provide every student the opportunity to build core strength, which in turn, builds self confidence and self awareness. The bonds formed in the gym follow these students throughout their lives.
Team
Our JO and Xcel competition teams have become a genuine family. They rely on each through the ups and downs of life. They rally in each other's victories and support each other during life's obstacles.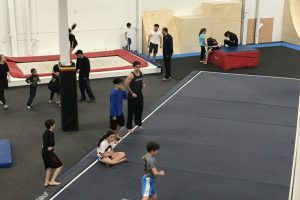 Open Gym
Whether practicing new skills or showing off old ones, this supervised social time is the best and most fun place to do so. We have something for everyone! Children ages 3-5 years old can play in our preschool section and those over 6 years old can use our main gym area. Kids are able to be themselves in a safe environment.